NEWS
Through your Donation:
Help build or buy a building to establish an Historical Museum and Memorial to the Buffalo Soldiers in Phoenix, Arizona.
There were 29 Medal Of Honor recipients from 1866-1943.
Donation of $25.00 Dollars a Certificate of Appreciation, 50.00 Dollars, Have your name or company on the Wall of Honor.
$100.00 Dollars a Pathway Paving Stone with appropriate names.
$500.00 Honorary Membership Buffalo Soldiers.
$1000.00 will include all of the above. Plus your name on the Official Scroll. And on the Corner Stone of the building and the Base of the Memorial.
Help us help our community. Donate to our education/charity fund.
ARIZONA IS THE HOME OF

MEDAL OF HONOR RECIPIENT

ISAIAH MAYS.
THE

BUFFALO SOLDIERS

MC CLUB OF AMERICA

& ARIZONA CHAPTER HAD THE DISTINCT HONOR OF EXHUMING ISAIAH MAYS REMAINS FROM A PAUPER'S GRAVE IN PHOENIX, WITH THE HELP OF THE 9TH CAVALRY BUFFALO HORSE SOLDIERS AND THE OLD GUARD RIDERS AND ESCORTING HIS REMAINS TO

ARLINGTON, VA

. IT TOOK 85 YEARS FROM THE DAY HE DIED TO LAY HIM TO REST WITH HONOR AT

ARLINGTON

.
---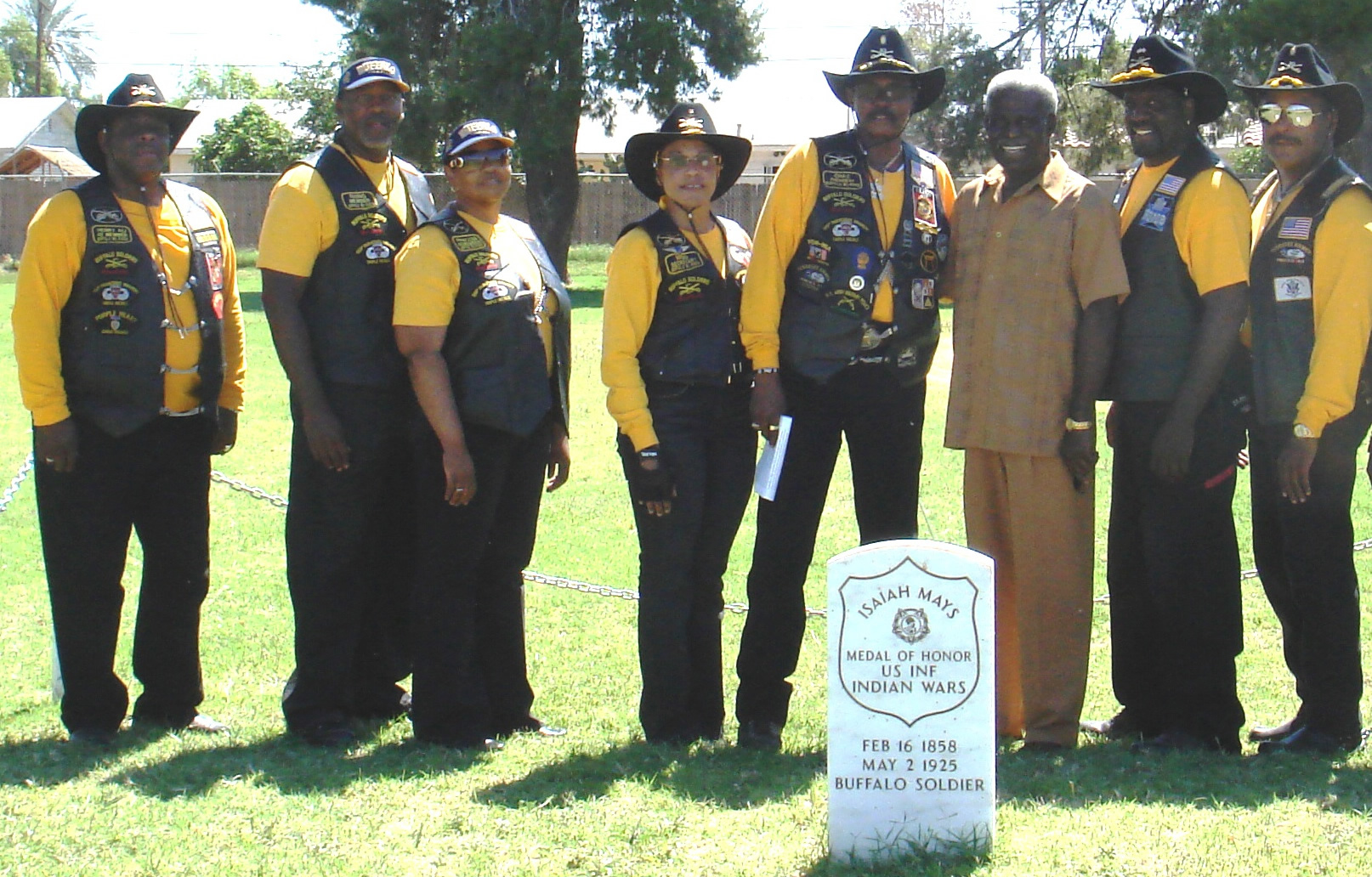 Respects to a Buffalo Soldier, an American Hero, on this Saturday May 17, 2008.
The Arizona Buffalo Soldiers Motorcycle Riders Club and A.J. Miller-Democratic Party Sponsor. Our goal is to get this Hero's Headstone to the Arlington National Military Cemetery in Virginia and give him full Military burial honors which he earned.
We are not the first to take on the task for Cpl. Mays. Others before us helped to get the headstone and refurbish the cemetery with grass, but the fight is not over until we secure Cpl Mays his proper resting place at Arlington National Cemetery in Virgina.
Cpl. Isaiah Mays, who was born a slave, enlisted in the US Army and was a Buffalo Soldier. In May, 1889 -Arizona Territory- Major Joseph Washington Wham takes charge of approximately $28,000 dollars in gold and silver to pay troops at various points in the Arizona Territory. While escorting the Army paymaster, two members of the 24th Infantry Regiment (Buffalo Soldiers) took heroic action to fend off a violent robbery attempt by masked cowboys. Sgt. Benjamin Brown and Cpl. Isaiah Mays (both Black Soldiers) received the Congressional Medal of Honor for their bravery. Eight Soldiers were wounded and eight of the attackers were arrested.
Cpl. Mays, with gunshots to his legs, crawled two miles to a ranch to seek help for the other wounded soldiers. Mays and Sgt. Brown, who was also shot, were awarded the Congressional Medal of Honor.
Mays was discharged in 1893, and later tried unsuccessfully to secure his pension. Know one knows why, but officials believe Mays wound up at the Arizona State hospital after becoming indigent and suffering from depression.
He died May 2, 1925, and was buried in the Arizona State Hospital's Cemetery without a Marker.
Watch the segment from NBC 12
Read about us in the Arizona Informant